Georgia Funkadelic is a six-piece electric groove band from Evansville, IN (USA). They are a group of musically-talented friends whom come together to make magic.
The music they create is called groove music. What is groove music? Any music that makes you feel good, especially that which is hard to resist dancing to.
The first album called 'Georgia's Pool Party', recorded with nineteen various local Evansville musicians, records the portrayal of difficult times and getting through them. The album is follows a historical timeline of love lost to love found.
The second album (EP) is 'Georgia's After Party', a collection of instrumental groove songs. Put it on and dance, vibe, groove and just feel it. The album follows the path of receiving an invitation to an after-party, and finalized with the collective experience in relationship building.
Musical influences are varied, and include Grateful Dead, Beastie Boys, The Meters, The New Mastersounds, and Talking Heads. Maybe also HAIM, Phoebe Bridgers, Jessie Ware. One thing is for sure, we like to have fun!
Come have fun with us!!
About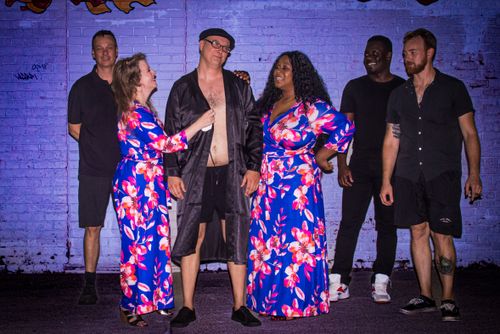 THE NEW 5-song EP ALBUM BY Georgia Funkadelic, "Georgia's After Party" IS NOW AVAILABLE! 
listen for free:  click to groove
Released on 12/31/2021, this collection of instrumental groove music features the quartet: Ben Ganster, Georgia Funkadelic, Mickey Peaches, and Roy Micah Carter. Come join the fun!